iCatalyze's 2019 Year in Review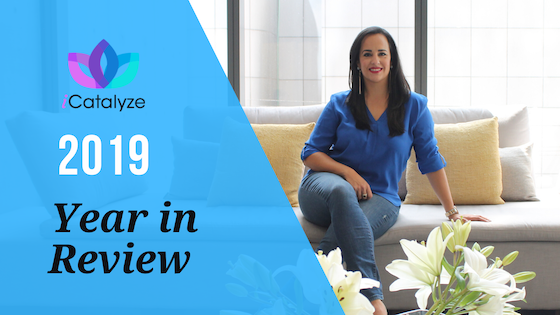 I believe in the power of change! And this year I am proud to conclude that iCatalyze's growth has been positive, significant, and impactful. iCatalyze met its primary objective of helping more individuals and organizations maximize their personal and professional potential and its secondary objective of reaching out to a wider community through social media and blog articles. Read on to learn about my 2019 journey and what's in store for the new year 2020.
It's All in the (Growing) Family
There is nothing I love more than seeing other people flourish. As an executive coach, I pride myself in recognizing potential and hidden talents in others and inspiring them to excel. My main goal is to increase the confidence and performance of my students and clients. And this year, I wanted iCatalyze to expand its reach. So, I ramped up my efforts and hired a new team member, Gaby. She has been instrumental in enhancing our blogging and social media presence. Not only do I love her innovative ideas and collaborative spirit, but I am proud that, with her, the iCatalyze family has grown to serve others better. Gaby and I are only a click away on Facebook, email, and Instagram and we are here to listen to the ups and downs of your journey and respond with advice, tips, and support. Feel free to follow us on social media or sign up here to get articles on how to increase your emotional intelligence and practice mindfulness to improve all aspects of your life.
On a more personal note, in 2019 I gave birth to a healthy baby girl. I am now a proud mother of two wonderful children that motivate me every day. Oddly enough, in the chaotic midst of childrearing, I have found clarity in my priorities. As founder and CEO of iCatalyze and mother to a newborn and a toddler, I have embraced the fast-paced thrills of life as a working mom and have gotten a lot more comfortable with my limits, imperfections, and realities. Most of all, I feel incredibly blessed that, despite having a newborn and a toddler at home, I've been able to stay active with my passions: coaching and teaching. In 2019, I have helped my coaching clients gain confidence in their abilities, set exciting goals and reach them, gain more visibility an increase their leadership presence.
Around the World in 2019
As a fully bicultural and bilingual coach, I am able to design and offer custom leadership-development workshops and programs for groups in both Spanish and English-speaking countries. This year, with iCatalyze, I took my methodologies and techniques to Panama, Colombia, the Dominican Republic, Mexico, and Georgetown University in Washington, D.C.
In February, I went to Panama to participate in a training program for female political candidates hosted by the Organization of American States and their Inter-American Commission for Women. I designed and facilitated leadership-development workshops focused on emotional intelligence and strengths to improve the candidates' campaigns and efforts to serve their communities.
In March, I went to the Dominican Republic as part of a leadership innovation seminar hosted by the Institute of Public Administration. The institute was celebrating its 20th anniversary and, as one of the speakers, I was able to share insights about innovation and organizational development for government leaders from numerous institutions.
In April, I was in Monterrey, Mexico to teach mindfulness and emotional intelligence to a dynamic group of female professionals who are part of SpeakHerNights. As we shared strategies and personal stories, I was able to bond with the group, and I still connect with many of them on a regular basis.
In August, I travelled to Colombia for the second training program for female political candidates hosted by the Organization of American States and their Inter-American Commission for Women. I was impressed by the diversity of women seeking office; they represented indigenous communities, Afro-Colombians, and fourteen different political parties!
In October I taught at Georgetown University, my alma mater. To round up a year of work travel, I developed, organized, and facilitated a program to train policy leaders from the Dominican Republic at Georgetown University in Washington, D.C. Aside from the classes taught by different professors and yours truly, I organized outings to the International Monetary Fund, Capitol Hill, and a meeting with Congressman Adriano Espaillat from New York. At Georgetown, I also designed a leadership program for young professionals from seventeen countries in Latin America.
Tuning into 2020
As I look toward 2020, I am excited about new possibilities. I am bringing to life an idea that has been simmering in my mind for a while: A PODCAST! I will share more details soon, but for now, just know that I will be launching a Spanish-language podcast called iCatalyze Leadership Lab. I will be interviewing leaders from diverse sectors and countries in order to learn about their leadership journeys and gather tips and lessons that can help you and me on our own leadership paths. I want these discussions to be practical and provide actionable ideas and strategies to maximize my listeners' potential.
With this podcast, I hope to reach professionals in the public, private, and non-profit sectors as well as entrepreneurs – everyone who is working to make a positive impact in their communities.
I am excited about the iCatalyze Leadership Lab podcast and for a new decade of working with my wonderful students and clients in their life journeys. If I could sum up 2019 with one word, it would be "grateful."
Thank you for joining me in my annual recap and for supporting iCatalyze.
____________________________________________________________
Do you feel stuck or anxious about the future? Do you feel it's time to take a leap to keep growing in your career or business? No matter your situation, this free guide will walk you through my coaching process to get you moving and making progress. Get your copy now!