Keep it Merry! 3 Tips to Avoid Holiday Burnout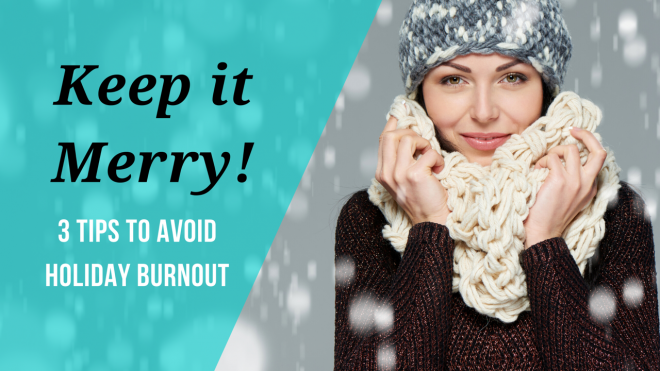 I love the holidays, but it certainly comes with a lot of expectations.  There is so much to do, so many people to celebrate with, and a lot of extras added to your daily routine. Fitting all the family visits, baking, decorating, and shopping into your schedule is overwhelming. But don't let the memories pass you by while you are busy creating them. This year, join me in taking preventive measures to avoid holiday burnout and keep the merry going strong.
Follow these three strategies to stay in the moment:
Practice Equanimity in Gatherings with Family and Friends
Defined as "mental calmness, composure, and evenness of temper, especially in a difficult situation" by the Merriam-Webster dictionary and considered by Buddhism as one of its four sublime attitudes, equanimity is "neither a thought nor an emotion, but rather the steady conscious realization of reality's transience… and can be cultivated through meditation."
In other words, equanimity is mentally distancing yourself from a tough situation, getting a big-picture, birds-eye view of the moment, and refusing to react based on the knowledge that "this too shall pass." Equanimity is not running and hiding. You must still consider the emotions of the moment while maintaining the balance of the mind. Equanimity requires practice, but it will come in handy when when someone asks you for the umpteenth time about your relationship status or to explain exactly what it is you do for a living. 
Real life example: Aunt Greta is making the cross-country trip this year and she is bringing with her fruitcake and inappropriate questions. While everyone is excitedly playing with your new puppy, she demands that Freckles be removed from the festivities on account of her allergies and sits next to you at the table to inquire about your love life. The rest of the table quiets down and stares; you now have an audience. 
Tips: Mentally distance yourself from the situation and consider the possibilities. Perhaps the exchange would make a great story to tell your friends later? Imagine your friends' soothing empathy; the way they'll shake their heads with incredulity. Or perhaps your mind can shift elsewhere. Maybe you just need to remember that Aunt Greta always regretted not having children and is transferring her feelings to you. 
Now, equanimity does not mean you should let yourself be a doormat as you remain aloof. It only reminds us to distance ourselves from the painful moment and act without reacting. Meaning you have the power to choose how to respond in the most productive way possible. After you regain mental focus, you may say something to the effect of, "That is sweet of you to ask, but I would rather not discuss it, thanks." 
Discuss Expectations, Traditions, and Rules
You have cherished traditions, but don't be afraid to break from the ones that are giving you a headache. If you are tired of the holiday movie you watch every year, stop. Give yourself permission. Traditions and expectations are tricky and we all seem to have a lot of them at the end of the year. This can be especially hard when dealing with different groups of friends, a big family or a new family (in-laws). 
Real life examples: (1) You are looking forward to going back home for the holidays but you still haven't figured out how you are going to be able to see all your family and friends in one weekend. To make matters worse, you posted your upcoming trip on social media and have since been invited to even more celebrations. (2) Your mother-in-law is a Christmas fanatic. She shows up at your house at the crack of dawn with too many gifts for your children. She takes a look at the scrambled eggs and toast you were prepared to serve and leaves to come back with ham and cinnamon buns. Your partner and kids are elated but you want to lock yourself in the bathroom and cry—what happened to a lazy day in pajamas, building Legos?
Tips: Before the hullabaloo, sit down and reflect (with yourself or with your partner) and consider the happenings of the year-end celebrations. What do you enjoy and which activities are you dreading? Are some of these activities you dislike important to your loved ones? If so, pick your battles. Which ones can you deal with and which ones are causing extreme anxiety and ruining your holidays? Perhaps the thought of hopping from party to party to see your family and friends back home is stressing you out. Here is an idea that has worked well for me in the past: politely decline the parties and invite everyone (yes, mix your friends up, they will survive) to meet you at your favorite hangout. "I will only be visiting for the weekend but would love seeing as many of you as possible. Come hang out at ABC Place with me. I'll be there on Friday from 10am to 2pm, so feel free to swing by for any/all of the time." As for your mother-in-law, have an honest, respectful talk with your partner. Maybe you can spend half the day in pajamas and go visit her after lunch. She can fill her own house with sugary treats and toys (and maybe some of them can be left behind as "grandma toys" for the kids to enjoy at her house). Try to find gray areas where there might be room for compromise. Be mindful of others' intentions and desires while also being true to your needs.
Organize and Plan Your Shopping List
This is a straight-forward but necessary strategy, especially if you dread the manic shopping of the holiday season. If you organize yourself and plan your list ahead of time, you will be able to focus on singing carols, going ice skating, reading by the fireplace, or playing with your kids. 
Real-life example: It is December 15 and that special toy on your son's wish list is sold out. Or you have the office party tomorrow and haven't gotten around to getting a gift for your secret Santa. 
Tips: Prevent this by starting early. Make a list of all the people you need to buy gifts for, think about what you want to give them, and write it down next to their name. You are now halfway done with your shopping and you never even left your couch! By having a plan before aimlessly wandering the mall, you will feel more relaxed and in control (and better able to maintain a budget). Remember to buy special treats that won't break the bank (and stay tuned for my gift guide coming out next week). 
If your child is dreaming of a toy that is sold out, consider your options. Perhaps, write a letter to your child (from Santa or yourself) and put it in an envelope with the money needed for the gift. Or tell your child that you don't have the space or money for that toy right now (or that Santa only brings small toys) and you will get him that toy later when it is available. 
Bonus: Delight in the holiday season and smile at the craziness as you keep yourself calm and pampered. Remember to listen to your favorite holiday music (and yes, if you want to start now go for it!), take hot showers, kiss under the mistletoe, run the turkey trot, indulge in hot cocoa, and keep the merry bright!
____________________________________________________________
Do you feel stuck or anxious about the future? Do you feel it's time to take a leap to keep growing in your career or business? No matter your situation, this free guide will walk you through my coaching process to get you moving and making progress. Get your copy now!