The Power of Testimonials: Why and How You Should Ask Others to Tell Your Story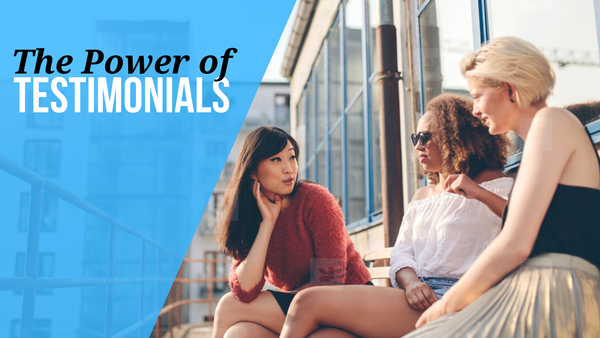 A decade or so ago, I thought I would not buy much online because I wanted to feel the smoothness of the fabrics with my own hands, or smell the aroma of the coffee-scented candles for myself. 
Now, I buy everything online as long as I can read through a lot of reviews and scroll through the customer pictures. Have I ever met Robinson M. from Arizona or Heather G. from Vermont? No. But their names don't matter; it is the social proof I seek.  
The Value of Testimonials: Social Proof
People follow what other people do. We especially pay attention to those who are like us or have similar needs. 
For clients to value your services or products before they have paid for them, they need a few questions answered. And they would prefer the answers to come from customers like them. 
So, what do  potential clients want to know?:
Is this purchase worth the investment?

What are the benefits?

Will I get ripped off?
While your academic credentials, work history, word of mouth, and list of previous clients are valuable types of social proof, reviews and testimonials are crucial. 
Ask Others to Tell Your Story
Testimonials are stories. To attract new customers, these stories must be true and relatable. Because nothing works as well as a story of how you helped your clients solve a problem. 
Make no mistake, you are not the hero in this story. Your client has to be the main character, the hero. They are Batman, you are Robin; scratch that, you are Alfred, Batman's loyal butler. 
The idea is that future clients relate to those giving the reviews and fall in love with your services before they even hire you or buy your product. 
The Story is in the Details
Reviews and testimonials need to be detailed and not generic. In order to get a specific testimonial, ask precise questions:
How have I (my product/services) exceeded your expectations?

What was it like working with me? 

What specific features did you enjoy about this service/product?
Retaining Clients by the Power of Affirmation
Testimonials will also help you retain clients. As they verbalize their positive emotions and stories, clients acknowledge and affirm the relationship they have with you, your services, or your products. 
After putting their thoughts into words, they will have no problem recalling their statements when they are with friends, family members, or colleagues and will spread the word and recommend you. 
Testimonials as Feedback
Testimonials are also a form of feedback. Let the power of a good testimonial propel you forward and refresh your purpose. When you are running out of battery, turn to them as a reminder of the importance of your services and the appreciation others have of you. 
You should also read between the lines. Is there something to improve? Some other service you can offer? 
A thoughtful testimonial is a powerful tool to attract new clients, retain existing clients, and assess your goals along the way. If you're already using testimonials, what else can you do to make them more meaningful? If you're just getting started, who can you reach out to today? 
____________________________________________________________
Do you feel stuck or anxious about the future? Do you feel it's time to take a leap to keep growing in your career or business? No matter your situation, this free guide will walk you through my coaching process to get you moving and making progress. Get your copy now!