Inspiring Catalyst: Megan Sullivan, 7 Wonders of the World in 13 Days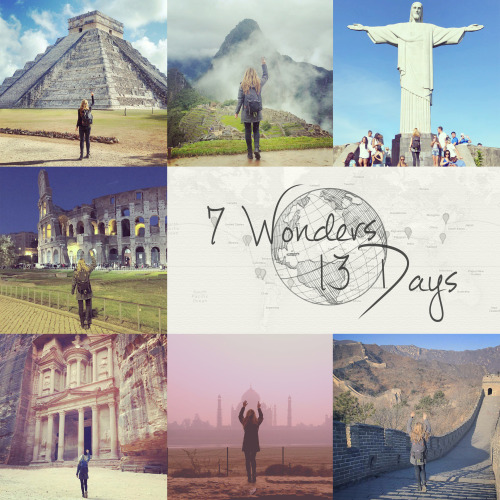 I am deeply inspired by this video by Megan Sullivan, a producer from San Francisco, who was hit by a car, fell 50-feet off a cliff, and was diagnosed with skin cancer, all in the same month last November. Although this would have been a devastating blow for anyone, Megan turned it into a life-changing opportunity. She had been dreaming of a trip to see the Seven Wonders of the World for almost three years but never knew when it was going to happen.
In her blog she documents her trip in detail on her blog which encompassed: 12 countries — 15 flights — 28,211 total miles traveled — 5 hotel night stays — 1 confiscated tripod — 7 wonders — 13 days. She also made an amazing video which you can view below!
How many times do we tell ourselves that "It's not the right moment," or "I have to wait until ___ is in place," and we keep putting off our dreams and goals? I went through this before getting married, when my now-husband and I analyzed every potential scenario and tried to calculate the best moment to get married, until we realized that the "perfect moment" didn't exist.
Life is what happens when we are busy planning for the future, and Megan's story definitely inspires us to JUST DO IT! Enjoy!
Comments
You wrote this blog very well. Very knowledgeable. Thanks for sharing this

"Abacus Trainer provides the Best Online Abacus Classes in India. Best platform for Abacus Training program from certified teachers for Students & Tutors

To know more about AbacusTrainer

Visit:"

Online Abacus Classes!
abacus teacher training!
abacus for kids!
Leave a comment